Tires For Sale In Frankfort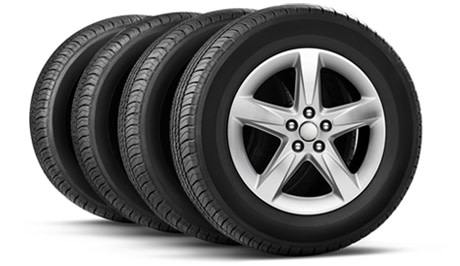 At Currie Ford in Frankfort, we've got the brand name tires you know and trust at the price you can afford. Located just off the intersection of Route 45 and Route 30, stop by any time to check out our expansive selection of tires for your Ford vehicle. We carry the best tires around, including BF Goodrich, Bridgestone, Cooper, Firestone, Goodyear, Hankook, and Michelin.
When selecting new tires, it's best to know what you're looking for because they come in many different styles. All-season tires are the most common and reliable tires on the market and best suited for all seasons. Performances tires are great for traction and maneuverability, but may be difficult to use in wintry conditions. The same goes for low-profile tires, which are great for performance and handling but may be trickier to use in icy conditions. You can also choose all-terrain tires for your truck or sport utility vehicle because they offer the great grip of off-road tires but also have the traction of normal tires. They also have Truck and SUV tires that accommodate different styles and allow you to choose between the ruggedness of an all-terrain tire and the reliability of an all-season tire.
So you know what kind of tires you might need, but how do you know when you need them. Tire damage and tire wear are the top reasons why you might need new tires. Be sure to inspect your tires as often as possible. Visible tread wear and worn parts can be blamed in part by over-inflated or under-inflated tires. Don't panic if you come across an indentation in your tire, as they are quite common and not a sign of bad tires. However, if you come across a bulge, get a new tire as soon as possible and do not drive on it; even to go to get a new tire! Pay close attention when you are driving and notice an unusual vibration. Out of balance tires cause uneven tire wear and unnecessary wear on your suspension, and misaligned tires cause poor steering and handling. You should have your tires rotated by a certified technician every 5,000 miles, as they can check your tires for any damage and answer any questions you might have.
Stop by and check out our tires for sale in Frankfort at Currie Ford. Our skilled and experienced service staff will gladly answer any questions and get you the tires you need for your vehicle.